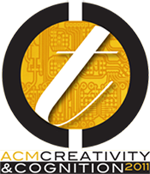 Our group will present one full paper entitled Designing Reality-Based Interfaces for Creative Group Work at the 8th ACM Creativity and Cognition Conference that will take place at the High Museum of Art in Atlanta, USA from 3rd to 6th November 2011.
We are also proud and honored that our contribution was nominated for the Best Contribution to Creative Communication Award.
Started in 1993, the biannual ACM Creativity & Cognition (C&C) conference series brings together artists and scientists, designers and educators, researchers and practitioners. This year's theme is Creativity and Technology. Our contribution is a full paper on our research in supporting collaborative design activities with reality-based and tangible interfaces. Based on an observational study grounded in the realitybased interaction framework, we identified power vs. reality tradeoffs that can be addressed to find a close fit to embodied design practice. Using this knowledge, we designed and implemented a digital workspace for supporting affinity diagramming. Its hybrid interaction techniques combine digital pen & paper with an interactive table and tangible tokens. An additional vertical display is used to support reflection-in-action and for enhancing discussion and coordination. A preliminary user study confirmed the applicability of our tradeoffs and the general acceptance of the tool design.
We look forward to an interesting conference and an exiting conference venue!
A video of our prototype implementation is availabe online: